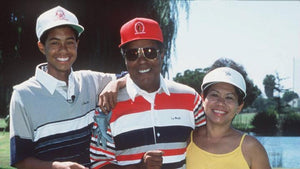 Why HBO's Tiger Woods doc is as much about fathers and son as it is golf
I've always felt a strange sort of kinship with Tiger Woods.
We don't really know each other. But our lives and paths have intersected enough that I've felt a strange tie to him for a long time.
We grew up 18 miles apart, as southern California kids in the 1970s and '80s. In the mid-1990s I worked for the Long Beach Press-Telegram, and I had to make sure any mention of Tiger's exploits included the key phrase of "Cypress' Tiger Woods," since Cypress was in our circulation area.
When I became the golf writer at the Free Press in 2004, Tiger tracked me down in Michigan and continued to stalk me by playing in the Buick Open every year.
So we're very similar people, give or take a billion dollars in net worth and slightly different golf swings.
I always loved watching Tiger play golf and I appreciated his skill and artistry on the course. But I was never a fanboy, and I didn't root for or against him. I was never enough of a fan to be emotionally involved in Tiger's highs and lows.
That's why I was surprised by how sad I was Sunday night after watching "Tiger," the first installment of an excellent two-part HBO documentary about Woods' life that boasts "never-before-seen footage and revealing interviews with those who know the golfer best."
---