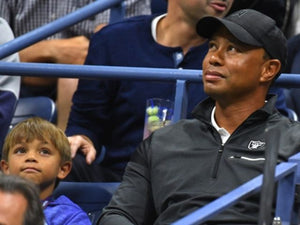 TIGER WOODS SON IS A NATURAL
Golf great Tiger Woods served as a caddy for his son Charlie on Sunday, who cruised to an easy victory in the US Kids Golf tournament hitting a 3 under 33 on the nine-hole course.
Charlie Woods, 11, smashed his opponents at Hammock Creek golf course in Palm City, Florida, beating his next closest opponent by five strokes in the age 11 category. Charlie earned three birdies and no bogeys, CBS Sports reported.
---