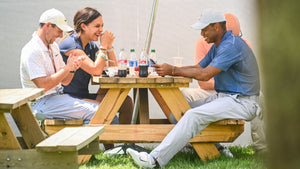 Tiger Woods, Rory McIlroy reveal fascinating differences of fan-free golf
On Saturday afternoon, after Tiger Woods and Rory McIlroy finished off their respective lackluster third rounds at the Northern Trust, they did something unusual: They found a picnic table outside the media tent and had a cheeseburger lunch.
The sight of Woods and McIlroy (plus Woods' buddy Rob McNamara and GolfTV's Henni Koyack) was just the latest new sight in a season filled with them. The idea of either high-profile golfer casually dining outside after a round would be unthinkable at TPC Boston, which is typically packed with rabid fans. But there they were, sharing laughs over Diet Cokes under the beating New England sun.
Really, the entire weekend felt anomalous for Woods and McIlroy. It was strange seeing two of the game's biggest names paired together for what amounted to meaningless rounds on both Saturday and Sunday, each well outside the top 50. Once a high finish became out of the question, Woods and McIlroy seemed more relaxed and chattier than usual. Each has won at TPC Boston before; this was decidedly different.
After their round on Sunday, Woods and McIlroy each made a series of insightful remarks in discussing just how strange everything feels on Tour at the moment. For two players who feed off the energy of the crowd, things feel a bit off.
"This is going to sound really bad," McIlroy said. "But I feel like the last few weeks, I've just been going through the motions. I want to get an intensity and some sort of fire, but I just haven't been able to. And look, that's partly to do with the atmosphere and partly to do with how I'm playing. I'm not inspiring myself, and I'm trying to get inspiration from outside sources to get something going." 
He has spoken in recent weeks about the sameness of the events without fans, and it's understandable; there's no way to replicate the feeling of a large-scale Tour event. Graeme McDowell said he felt like a "golfing zombie" earlier this week; McIlroy agreed with that assessment.
It's always interesting seeing McIlroy process things in real time in his press conferences, and that was certainly the case as he tried to brainstorm motivational tricks on Sunday. Sometimes it helps to set up another game inside his head, he said, or to make a bet with his caddie.
"Maybe that's the strategy," he said. "I do that in practice rounds sometimes with Harry (Diamond) and we make a lot of bets and I try to shoot scores and try to win dinner, whatever it is. Maybe that."
What's funny is the idea that McIlroy would get more engaged playing his caddie for dinner than merely playing for the FedEx Cup, which has a $15 million first place prize — a prize McIlroy won last season.
"You've got a lot of incentive here to play well," he acknowledged. "It's just trying to get it out of you."
---