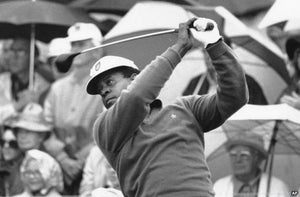 The man who defied death threats to play at the Masters
Forty years ago, Lee Elder became the first black golfer to play in the US Masters - but when he qualified for the tournament, he received death threats and wondered whether taking part might cost him his life.
The crowds gathered at the opening hole of the Masters in 1975 were used to watching a black man stride on to the first tee. But Lee Elder was not there to carry the clubs of a white competitor - he was there to play.
It was one of the last colour barriers in US sport.
"When I arrived at the front gate and drove down Magnolia Lane that's when the shakes began. It was so nerve racking. I said a prayer and asked for help to get me through the day," says Elder.
That short walk on to the first tee was a ground-breaking moment but all he could think about was not fumbling his first shot.
"What if I hook a drive or slice a drive into the woods?" he thought. "I just collected my thoughts as I approached the first drive and just kind of swung the club."
Elder needn't have worried - his first stroke landed in the centre of the fairway. On the first hole he made par and only dropped two shots in the first round.
"For me, I felt it was a pretty good round," he says.
Before 1975, African Americans were often seen at Augusta, but only as caddies or club staff, never as players.
The crowd too was overwhelmingly white. But Elder found that he got a rapturous reception wherever he went as he made his way around the course.
"Every green I walked up on, the applause was just tremendous. I mean every one of them people shouted, 'Go Lee! Good luck Lee!'"
And it wasn't just the spectators supporting him. After finishing his first round he found the staff lined up along the path leading to the club house, thanking him for coming and being the first black person to play there.
Like other black golfers, Elder had experienced years of harassment while playing at tournaments in other southern states. The clubs there were bastions of conservatism and many members were determined to stop African Americans reaching the sport's highest level.
In the run up to the Masters he received so many intimidating letters, including death threats warning him he would never tee off, that he ended up renting two houses in Georgia. He spent the tournament living in fear, moving between the two properties so no-one would know where he was staying.
Despite the hostile atmosphere, a pioneering generation of black golfers emerged in the 1960s. Many, like Elder, came from poor backgrounds.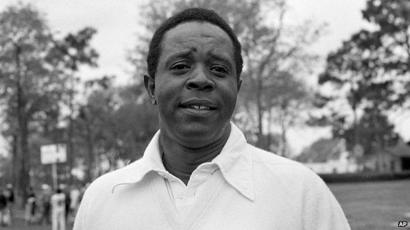 Born in Dallas, Texas, he was the youngest of eight children and had lost both his parents by the age of seven. His father died in World War Two and his mother passed away not long after.
By the time he turned nine he knew that golf was all he wanted out of life. One of his older brothers had got a job at a golf course. "Every night he would come in, he'd take quite a bit of money out of his pocket and lay it upon the table and I was saying, 'Gee, I've got to try and see if I can make me some money.'"
Around that time, Elder tried to get a job as a caddy, but he was so small he couldn't carry the bags. So instead, the golf pro hired him to collect stray balls until he was big enough to start caddying.
His first golf club was given to him by a man he caddied for and his first shots were practised in an empty field across the road from the course where he worked.
Elder says he wasn't a natural at the sport and had to work hard to improve, but by the time he reached his late-teens he was hustling other golfers. "You would go to different golf courses and survey them and see how good a player they were. Then you'd get into the game - maybe lose one time so you could have them feel you were not a good player."
His hustling days ended when he joined the United Golf Association - a tour for players excluded from the main body of the sport, the PGA, which didn't abolish its "Caucasian-only" membership clause until 1961.
Then in 1967 Elder raised enough money to attend qualifying school for the PGA Tour, gaining his tour card for 1968. But he still faced problems at many tournaments.
Once in Memphis a spectator removed his ball from the fairway so he lost a shot. And at some clubs, such as Pensacola in Florida, he had to change in a car park - black players were not welcomed in the club house.
But in an ironic twist, it was by winning the Monsanto Open at Pensacola in 1974 that he automatically qualified to play at the Masters the following year.
Given the discrimination he had faced, he spent some time discussing the invitation with his advisers before he decided to accept.
After the first two days of play he missed the cut and didn't make it through to the weekend. Two years later though, it was a different story - he went back to Augusta in 1977 and finished in the top 20.
Elder was 40 when he played at the Masters that first time. He felt that if he had played as a younger man in his 20s he might have had a chance of winning.
"At 40 - that's pretty late in your career but it was certainly something that I enjoyed being a part of," he says.
It was another two decades before an African-American player actually won the Masters - Tiger Woods in 1997. Elder was there to see it.
"When Tiger came off of the 18th I was standing on the way to where you had to go and sign your score card. He came over and embraced me and I said, 'Congratulations champ.'"
In the press conference immediately afterwards, Tiger Woods made a point of paying tribute to Lee Elder and the other black golfers who had gone before him, helping to pave the way.
Elder has been an almost constant presence at the Masters since he stopped playing and is there this week on the 40th anniversary of his first appearance.
For Elder, looking back at how far he had come during his career and being there to see Woods put on his first Green Jacket was a very rewarding moment.
"I think about the contribution that I have made to all of the minority golfers. To let them know that all things are possible if you continue to work at it and believe in it."
---