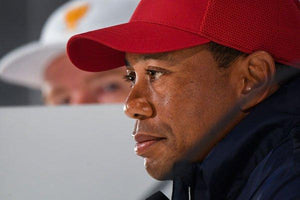 Is this the end or will Tiger reemerge from the Woods after another crash?
Tiger Woods has already achieved one of the greatest comebacks sport has ever known and now the 45-year-old golfer faces another mammoth challenge to simply return to full health, never mind compete again.
His playing career must be in serious doubt after the devastating injuries suffered in Tuesday's shocking single-vehicle car crash in southern California.
Woods languishes, once again, in a hospital bed, an all-too-familiar scenario for a man who came through four back surgeries, including a fusion procedure, before winning the 2019 Masters, his 15th major title.
That Augusta win felt like a crowning moment to an extraordinary career which has been marked by incredible highs on the golf course and dramatic and painful lows away from the game.
Woods has been golf's dominant personality for 25 years. At the height of his powers he was the biggest sports star on the planet.
He remains three short of fellow American Jack Nicklaus' record of 18 major titles, a mark he looked certain to surpass in the first decade of this century.
Arguments rage over who was the greater player, but many contend no-one has ever played better golf than Woods in his prime. In the wake of the crash, former US President Barack Obama tweeted: "The GOAT (greatest of all time) of golf.
---