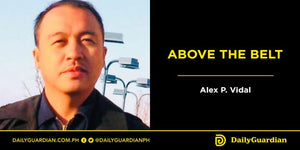 I AM TIGER WOODS
"I'm addictive. I'm addicted to golf."—Tiger Woods
IN 1997, this declaration became the title of one of my articles in Sun Star Daily.
A curious radio sports analyst asked me in an event we both attended in a hotel in Iloilo City: "Why did you claim that you are Tiger Woods?"
I smiled and retorted: "Are you referring to my article? Have you read it, by the way?"
The broadcast sports analyst, who is now based in Europe, also smiled and responded, "No, I haven't read it yet, but I saw the title of your article where you claimed that you are Tiger Woods. How did it happen?" I smiled once more.
Mr. Sports Analyst didn't do his homework.
He probably wasn't updated in the world of sports; and it's a mortal sin for sports scribes to miss developing and fundamental facts that ring a bell in most parts of the sporting world.
"I am Tiger Woods" was a statement that became the title of my article because the slogan had been reverberating around the world where golf was extremely popular.
And I happened to watch its short video on CNN participated by kids of different races.
"I am Tiger Woods" was golfing sensation Tiger Woods' 1997 TV commercial in his rookie season.
The campaign was built on Woods' universal appeal.
Boys and girls of diverse backgrounds—decidedly not the typical country club set—stream towards the golf course.
In other words, it's a bold, powerful message.
-o0o-
By the time Woods actually turned pro, he was already the biggest name in the sport.
Golf was about to go global, and Nike Golf was planning to do the same.
Tremaine Eto wrote that shortly after Woods burst onto the professional golf scene, Nike released I am Woods with full intention of making a statement.
"Tiger has Thai, African, Chinese, American Indian and European blood," Eto quoted Woods' mother Kultida as saying in a 1996 piece by Gary Smith.
"He can hold everyone together. He is the Universal Child."
In that same piece, Eto explained, Smith pines Woods' arrival as a huge moment in golf.
"The white canvas that the colors are being painted on—the moneyed, mature and almost minority-less world of golf—makes Tiger an emblem of youth overcoming age, have-not overcoming have, outsider overcoming insider, to the delight not only of the 18-year-olds in the gallery wearing nose rings and cornrows, but also—of all people—of the aging insider haves."
The ad, highlighting children of various minorities, spoke to the fact that Woods could play to a wide swath of children and adult fans worldwide; nearly everyone could see a part of themselves in his mere existence in what was a mostly homogeneous golf world.
Earlier In 1996 during the Greater Milwaukee Open, Tiger Woods announced that he would be making his professional debut on the PGA Tour with the delivery of an unpolished 20-year-old.
"I guess, hello world, huh?"
Nike, which had just signed Woods to an unprecedented 5-year, USD40-million deal to market its newly-formed golf division, had their commercial ready—in fact, it had been primed to go for weeks, waiting for Woods to introduce the phrase during his pivotal announcement, revealed Eto.
"Nike has always tended to go out on a limb to take advantage of the moment," Rod Tallman, then director of marketing for Nike Golf, said in a quote that has remained true throughout Woods' career.
The Hello World commercial by Portland-based Wieden + Kennedy would detail all of Woods' historic achievements to that point—but also powerfully framing it with his status as a minority golfer in what was seen as largely monochromatic sport.
-o0o-
"According to Ad Track, 48% of consumers between ages 18 and 29 (a core Nike demographic) deemed the ad "very effective," and later that year it was nominated for an Emmy," L. Jon Wertheim reported in Sports Illustrated in his 2003 piece on the ad.
The spot was not without controversy; some questioned the claim that there were courses Woods was not allowed on, and some felt the campaign tried too much to frame Woods as a subversive crusader for social change.
Eto said Nike and Wieden + Kennedy still saw Woods as a special, game-changing figure, though, so they would stick with their message but try to frame it differently.
We are aware what happened to Woods in the single-vehicle accident on February 23 in which his S.U.V. ran off the road and landed on a hillside near Los Angeles, causing leg injuries that required him to undergo hours of surgery.
At 12:30AM Eastern time on Wednesday, a cording to New
York Times' Bill Pennington, a statement appeared on Woods's Twitter account, saying that he had "undergone a long surgical procedure on his lower right leg and ankle" and that he was "currently awake, responsive and recovering in his hospital room."
The statement added that a rod had been inserted into his right tibia, and that screws and pins were used to stabilize bones in his ankle and foot.
We are glad he survived. A year ago in January, the world mourned when we lost a basketball legend Kobe Bryant in a helicopter crash also in California. The jinx has been broken.
---