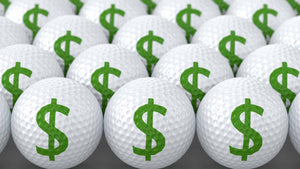 How much money would a pro make by finishing last in every event? We found out
Professional golf is unique in many ways, but especially when it comes to
finances
. Players pay their own way, and unlike team sports like football, baseball, basketball and hockey, big money isn't guaranteed once you make it to the Tour. Sure, just about every Tour player has multiple sponsorships, but on the course, players have to earn everything they make, and at regular-season PGA Tour events, that means they need to play well enough to make the cut before they'll see a dime.
With the new PGA Tour season already upon us, it raises an interesting question: What would a fully exempt player have made during the 2019-20 season if he made the cut at every single regular-season Tour event (not including majors, WGCs, limited-field events or the FedEx Cup playoffs), but finished at the bottom of the leaderboard every single time?
The answer might surprise you. There were a total of 23 regular, full-field PGA Tour tournaments played during the 2019-2020 season (five were canceled due to the coronavirus shutdown, and others, like the Masters, were postponed into the 2020-21 season). For the purposes of this story, I'll use the amounts from 2018-19 tournament season finishes to fill the canceled tournament voids.
Also worth noting: PGA Tour tournament purses vary, generally ranging from the low $6-millions to the high $7-millions, depending on the event (the Bermuda Championship and Puerto Rico Open are exceptions here — they're held opposite WGCs — with total purses of only $3 million). Cutlines often include many players tied on the number, which is why last place varies widely, from 66th to T80. So, with all that in mind, here's the breakdown for our hypothetical player:
A Military Tribute at the Greenbrier:$15,825 (67th)
Sanderson Farms Championship:$13,794 (68th)
Safeway Open: $15,825 (67th)
Shriners Hospitals for Children Open:$13,510 (76th)
Houston Open: $14,175 (78th)
Bermuda Championship: $6,390 (66th)
Mayakoba Golf Classic: $5,490 (T80)
The RSM Classic: $12,474 (78th)
Sony Open in Hawaii: $13,398 (71st)
The American Express: $13,199 (74th)
Farmers Insurance Open: $14,025 (79th)
Waste Management Phoenix Open:$15,549 (66th)
AT&T Pebble Beach Pro-Am: $16,302 (68th)
Puerto Rico Open: $6,210 (69th)
The Honda Classic: $14,490 (69th)
*Valspar Championship: $13,735 (70th)
*Valero Texas Open: $15,450 (T69)
*Zurich Classic of New Orleans: $34,310 (T37)
*Wells Fargo Championship: $15,326 (73rd)
*AT&T Byron Nelson: $15,800 (T69)
Charles Schwab Challenge: $15,825 (67th)
RBC Heritage: $13,916 (T74)
Travelers Championship: $15,466 (68th)
Rocket Mortgage Classic: $15,375 (70th)
Workday Charity Open: $13,083 (67th)
3M Open: $13,794 (68th)
Barracuda Championship: $7,455 (66th)
Wyndham Championship: $12,224 (77th)
*Total from 2018-19 season finish
TOTAL: $392,415
That total winnings of $392,415 would put our player at No. 149 on the PGA Tour money list through the Wyndham Championship, and while an income of nearly $400K represents a pretty good living for most people — even when you factor in expenses — it's unfortunately not enough to guarantee that you can keep your job on the PGA Tour. (While the money list is no longer used to determine PGA Tour status, a last-place finish in a regular Tour event earns around four FedEx Cup points, which yields a total of approximately 112 points for the season and a FedEx Cup ranking of around 177 — a far cry from the 276 points you needed to crack the top 125 and qualify for the Playoffs.)
For perspective, just one top 5 finish on the PGA Tour is generally worth somewhere between $240,000 to $300,000, so a player can literally almost match the season-long tally of last-place finishes with one good week. And for even greater perspective, our player's last-place total in every event still tops the Korn Ferry Tour's top money leader through the KFT Championship, Will Zalatoris, who has banked over $358K in 15 events to lead the rest of his peers by more than $25K.
---