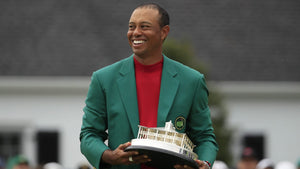 Black people love Tiger, though he doesn't necessarily love us back
After more than a decade of drought, Tiger Woodswon his 15th major and collected his fifth green jacket Sunday at the Masters Tournament. This took place on the same weekend that Stephen Curry broke the all-time NBA playoff record for 3-pointers. Black people all around the country are celebrating Tiger and his brand of black exceptionalism as he made his way back to the top of the leaderboard.
While many black folks were quick to celebrate Tiger's win simply because he is black, how many of these same folks were slower to cheer Curry's feat simply because it is not regarded as a major "black" achievement?
This conundrum is the sports version of code-switching. Our enthusiasm is sometimes different for black athletes who win in a predominantly white sport such as golf compared with black athletes who achieve in a majority-black sport such as basketball.
My good friend Dana Peterson called me after the Masters and told me about his experience while watching it on television. "I watched the entire final round and went through all the ups and downs," he said. "I was on the edge of my seat the whole time cheering for Tiger. It's a great comeback story. One for the ages. And then after he won, he went to be with his family and friends and there wasn't one black person in the group. I went from the highest high to like, damn …"
For many black folks, Tiger's accomplishments in golf are an inspiration, even a proxy, for them in their majority-white workplaces. He is a symbol of meritocracy, an exemplar of the way many blacks wish they could be viewed by whites in their professions. Tiger may look like us when he's on the green, but he doesn't act like us. He doesn't even have anybody who remotely looks like us in his inner circle. Yet, his accomplishments instill in many of us a sense of pride, especially when we are in the company of white folks. Tiger doesn't have to be culturally black as long as he is winning in a sport that whites continue to dominate — it wasn't until 1961 that Charlie Sifford became the first African American to become a member of the PGA Tour, and it wasn't until 1975 that Lee Elderbecame the first African American to play in the Masters.
Tiger's accomplishments, as impressive as they are, haven't paid many dividends for blacks in the ranks of professional golf. For as iconic and revered as Tiger is, he hasn't been able to replicate himself in golf the same way that Venus and Serena Williams have in another elite white sport. There are two young black women ranked in the top 10 of tennis. Naomi Osaka earned the No. 1 spot in January less than two years after her idol Serena Williams sat atop the rankings. Sloane Stephens is ranked No. 8.
Tiger's nearly 25 years as a professional golfer has done very little to change the complexion of the sport or the lily-white elitism that has been historically associated with it. However, he has completely changed the economic landscape and the global reach of the sport with what is known as the "Tiger Effect."
His face was on the front pages of major newspapers and digital platforms around the world on Monday. While the complexion of the players hasn't changed much, he has brought a whole new black and brown audience to the sport that didn't really exist before his reign. Tiger and golf are clearly benefiting from a black audience. But what do black folks get other than the satisfaction of knowing that a brother with DNA from the motherland is once again at the top of the heap?
Another friend and colleague, Clifton Anderson, summed the whole thing up for me when we talked. He constantly reminds me of the importance of self-identity in shaping our impressions of the world. "It all comes down to identity," he said. "When we get to a point where we accept and are secure with who we are, then we can view ourselves and others like us through a consistent lens. Unfortunately, until we get to that point, the criteria for our heroes won't always make sense."
It took Curry only 91 games and seven years to break Ray Allen's record for playoff 3-pointers; it took Allen 171 games and 15 years to acquire the record. Curry has completely changed the way that the game of basketball is being played at all levels around the world. His impact is being felt both on and off the court. For example, this year Curry teamed with Under Armour and a 9-year-old girl, Riley Morrison, to release the Icon Curry 6 "United We Win" on International Women's Day, making the male-dominated signature sneaker market more inclusive.
Over the course of his career, Tiger has also completely changed the game of golf, but he has arguably failed to have the type of cultural and social impact commensurate with the power and reach of his brand. It's probably too late now. His long drought may have cost him more than he knows.
My 9-year-old grandson Darius spent the weekend with us. As I began to write this piece, he looked over my shoulder and started to read what I was writing. He then turned around and said, "OK, Google, who is Tiger Woods?" I was shocked. "You don't know who Tiger Woods is?" I asked. "No, sir," he said. I then asked him who his favorite basketball player was. He looked at me with a shocked gaze, similar to the expression I had just given him.
"Steph Curry," Darius said. "Duh!"
---
1 comment