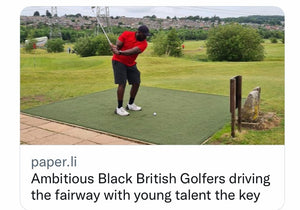 BLACK BRIT GOLFERS
IT WOULD be fair to say that the development of the British Black Golfers  (BBG) organisation is in full swing. The brainchild of Ray Nyabola, the organisation's ambitions among others is to make a pastime steeped in so much tradition and negative perception, accessible to the black community. At the heart of Ray's' ambitions is making golf a pathway for black youngsters.
An excited Ray told the Voice of Sport: "For me BBG has been in my head for the best part of a decade if not more. I started thinking about golf and the black community while I was living in Birmingham, a vibrant and mixed community.
"I didn't have the nous to push it forward, so I reached out to other organisations about possibly playing in some of their tournaments. Nothing came of that and then life got in the way."
Father-of-three Ray was bitten again by the famed golf bug once life settled down and, as they say, the rest is history. "I then got the golf clubs out again, started playing more," he admits.
It has been a testing year for so many with the pandemic, the killing of George Floyd and subsequent global and domestic demonstrations surrounding the American's death. Ray was determined to use the period as positively as he could.
"Where society was, and still is, made it easier to implement BBG by setting up a platform to engage people," he says. "I want to see more black golfers and what's the best way for me to do that I asked myself."
"In February this year, I committed myself and said 'I'm just going to do this', I was just going to put it out there and see what happens.
"From there we've just gone from strength to strength, unearthing new golfers more or less every day. We've started formulating different conversations with golfers from different communities.
"The overwhelming response has been so positive. Every day I wake up, I get message in my inbox saying we needed this initiative and we admire the work that you are doing. The wider golfing community acknowledges that we need to be part of the sport."
With the vision clear in his mind, Ray set out to seek support from other keen black golfers who could help him bring the vision to life. He found that support in Julia Regis, the wife of the late football legend Cyrille Regis.
Julia was encouraged to take up golf by Cyrille some time ago and is now an avid golfer who is well aware of the benefits of the sport.
"I came across Black British Golfers via social media. I loved seeing so many black golfers being profiled and once Ray reached out to me I was keen to see how I could support the project," said Julia.
"I had my first lesson nearly ten years ago. I fell in love with golf for a number of different reasons, I love being outdoors in nature for one and the fact that you can play into your 80s or 90s and still have success on the course. Yes, there's a competitive aspect but you are also playing against yourself and the course. The social aspect, meeting new friends and enjoying golf whilst on my travels abroad is an added bonus too!
---