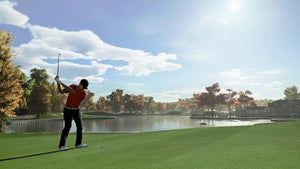 ARE YOU A FAN OF GOLF VIDEO GAMES?
Update: PGA Tour 2K21 is developed solely by HB Studios. Previously we've stated that the game is also made by Maximum Studios. We regret the error and are updating the piece to reflect that. 
Platform: PS4, Nintendo Switch, Xbox One, Google Stadia, PC
Genre: Sports, Golf, Tiger Woods Simulator
I've never been much of a sports guy. Just like a lot of other non-sports people, I'm familiar with football/soccer and basketball, but other sports? Not so much. The only thing I know about golf is Tiger Woods, and that's what I had coming into PGA Tour 2K21.
My only experience with golf video games in my life has been arcade-y golf games like the Everybody's Golf franchise, which is fun and catered to everyone; you didn't really need to know anything about Golf other than the fact that you hit the golf ball with a golf club.
It's obviously different with PGA Tour 2K21, which strives to for realism and to be a golf simulator. It's for golf fans who know the sport inside and out, with conditions and gameplay situations that mimic what the real sport would be like. PGA Tour 2K21 is also the first game by 2K Games after they acquired the license from EA.
Point is: did this entry even make me remotely care about golf? Will this be one of those "for die-hard fans" cases? Stick around…
---