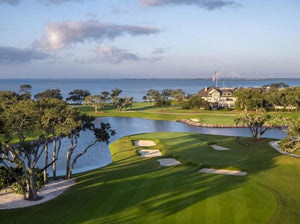 BLACK GOLF CLUB NEWS: 10 Best Golf Resorts With Private Cottages Or Cabins
Two of the biggest leisure trend upswings during the 2020 coronavirus pandemic have been golf, which is through the roof with a record breaking year for equipment sales, and demand among travelers for freestanding lodging such as cabins or cottages, which require no crowded lobbies or elevators and share no hallways.
Basically, people want space and fresh air, and increasingly, these two trends are coming together at some of North America's very best golf resorts. Without the foresight of the impending pandemic, several of the world's best golf resorts - think Pebble Beach, Sea Island, Kohler - have very recently added cabins - just in time.
Consider Destination Kohler, which has hosted both Men's and Women's Majors - on three of its four excellent courses - and already has one of very few Forbes 5-Star hotels at a golf resort with more than one course. With a vast array of recreational, lodging, dining and amenity options, this world-class resort already had just about everything a guest could want - except freestanding lodging. But Kohler recently upped the ante when it started adding deluxe cabins to its luxury hotel rooms and suites. Similarly, golf's other renowned Forbes 5-Star multi-course resort, Georgia's venerable Sea Island -also with a vast breadth of outdoor activities and dining options - recently added golf cottages as well.
Big Cedar Lodge in the Ozarks of Missouri took the opposite approach. This spectacular outdoor sporting resort already had plenty of deluxe log cabins with large porches, luxury bathrooms and full kitchens, but in recent years has quietly grown to become one of the 20 largest golf resorts in North America by adding course after course by top designers including Coore & Crenshaw, Fazio, Nicklaus and most recently (this month), the only public course in the country designed by Tiger Woods.
Whether the golf or the cabins came first doesn't really matter to golf fans, what matters is having very good examples of both. Let's clarify definitions: Because I am listing destination golf resorts, I am limiting the slate to those with at least two eighteen hole courses, because while a single great course makes for fun weekend, anything less does not anchor a golf vacation. In terms of lodging, my focus is cottages or cabins that are part of a full-service resort and an alternative to hotel rooms, not luxury rental homes in residential communities attached to golf resorts. That option is found all over the place and while freestanding, renting a house is a very different vacation experience than staying at a resort. This focus is on more golf-oriented units designed for a twosome, foursome or in a few cases, two foursomes.
Here are your North American Top 10, in no particular order:
Destination Kohler, WI (also known as the American Club Resort): The hospitality flagship of privately owned plumbing, kitchen and generator giant Kohler Co., this is basically their 19th century utopian factory town and world headquarters turned into an expansive luxury resort that spans the entire village, and beyond, all the way to the shores of Lake Michigan. The resort includes multiple lodging options, one of the nation's best spas, fishing and outdoor activities and four excellent golf courses, all designed by the late and legendary Pete Dye, split between two 36-hole complexes. The original courses at Blackwolf Run hosted the Women's U.S. Open, and the links style Straits at Whistling Straits multiple men's PGA Championships - and it remains the site of the 2020 Ryder Cup, now postponed to 2021. Golf Magazine ranked this the Number Two golf resort in the entire country behind only Pebble Beach, while the marquee Straits Course is the third,  fifth or seventh best public course, depending who you believe: Golf Digest, Golfweek or Golf Magazine. Kohler's recent move into cottages added four new one-of-a-kind luxury units, starting at two bedroom, two baths, with extras like gourmet kitchen, wood-burning fireplace, wrap-around porch complete with a firepit, and of course, a signature luxury bathroom showcasing the best of Kohler's fixtures.  
Pinehurst, NC: Another resort spread over an entire quaint village, it was the very first golf resort in the U.S, and is now the largest in the Western hemisphere, with a stunning nine eighteen-hole courses - and a new short course. Often called "America's St. Andrews," there is simply no place on earth, public or private, other than Scotland's St. Andrews, that can lay claim to so much golf history. Its signature Number Two course is the only one on earth that has hosted two different Men's Majors and the Ryder Cup, as well as Women's Majors, the U.S. Amateur, the Tour Championship and basically every important event that ever changes venues - the U.S. Open is returning yet again in 2024. No significant player in the last thirteen decades has failed to tee it up here, but instead of relying on its unrivalled history, in recent years Pinehurst has undergone a renaissance with the addition of the short course, the addition of a ninth course, the critically acclaimed restoration of Number Two and total renovation of Number Four. One hotel was completely rebuilt, new restaurants and even a brewery were added, along with many other improvements. But for years the best kept secret here has been the Carolina Villas, freestanding units perfectly designed for a foursome (foursomes with spouses/partners) with eight beds in four bedrooms, all with private bath and separate entrances, plus a large central living area, immediately next to the flagship Carolina hotel with immediate access to all services.
---